Thursday, September 11, 2008
credit derivative swaps (CDS) , fannie freddie, and credit insurers (september 11, 2008)
Latest new post for members only issued on April 23, 2010. Fill signup form below to access it instantly.
---------------------------------------------------------------------------
New Policy: To Read The Market Analysis Reports Generated By Our Proprietary Models,
You Now Need to Subscribe. Fill Form Below. Subscription Is Free.
Get Instant Access to the Latest Report, As Soon As You Submit the Form Below.

NOTE: You will also receive access to hundreds of articles on this site. The articles are not visible on this page.
---------------------------------------------------------------------------
The conservatorship status of Fannie and Freddie may have implications, as a credit event, on credit default swaps. Banks and insurers typically writes these CDS. We are looking at the implications of this on relevant parts of the banking and insurances sectors with exposure to this CDS. The exercise of these insurances is complicated, and the future will tell whether they would trigger other events, and impacts on stock valuations.
We read some articles on this topic. Some excepts follow on the topic of credit derivative swaps (CDS) , fannie freddie, and credit insurers.
From the Financial Times:
The default of up to $500bn of Fannie Mae and Freddie Mac credit derivatives contracts triggered by the US government's seizure of the mortgage groups could result in billions of dollars of losses for insurance companies and banks who offered credit insurance in recent months.
The potential losses, as well as uncertainty about exactly how the derivatives contracts will be settled and unwound, is putting strains on the unregulated $62,000bn credit derivatives market, which has been a target of regulators worried about the hidden risks it could hold for the financial system....
The exact number of credit default swaps – a kind of insurance against debt default – outstanding on Fannie Mae and Freddie Mac are not known, reflecting the private nature of the sector. However, according to the latest estimates from dealers and analysts, there could up to $500bn of contracts outstanding.
Michael Hampden-Turner, credit strategist at Citigroup in London, estimates there are $200bn-$500bn of outstanding CDS and other credit derivatives referencing Fannie and Freddie.
This would make their default the biggest the market has encountered. The previous record was held by Delphi, the US carparts maker that went bankrupt in 2005 and which had about $25bn of CDS.
Currently, the recovery value of the Fannie Mae and Freddie Mac CDS is expected to be about 95 cents in the dollar, leading to a potential 5 per cent loss for insurance companies or banks who offered protection against a default. On CDS worth $200bn-$500bn, losses would come to $10bn-$25bn.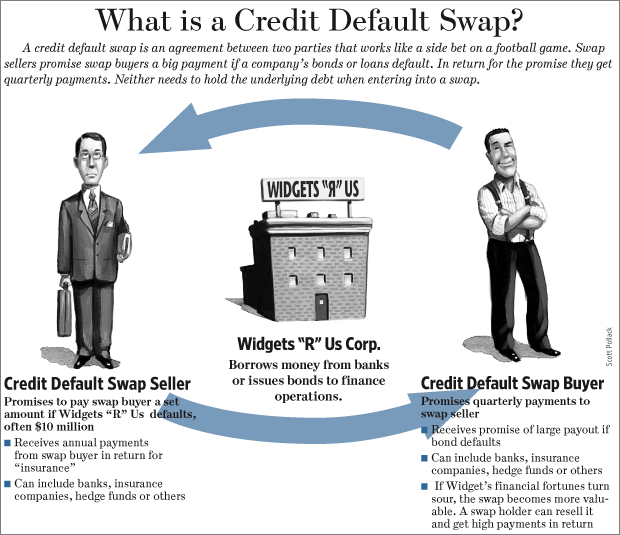 To Receive Market Forecasting/Timing Reports, and Other Special Trading Reports:
Enter your email address in the form below, and click submit. Your subscription is at no cost to you and you can unsubscribe at any time. You will receive our special market timing reports, trading reports, and other specials available for members only. We reserve the right to withdraw or terminate this FREE subscription offer at any time. Therefore, secure your subscription now as we do not guarantee that this offer will be available at your next visit to this site.
Happy trading,